Dear customer,
As we know, skin problems are common amongst our beloved pets, especially in cases related to allergy. The incidence of food allergies and atopic dermatitis is increasing and it is estimated that 1 out of 5 pets will suffer from these conditions.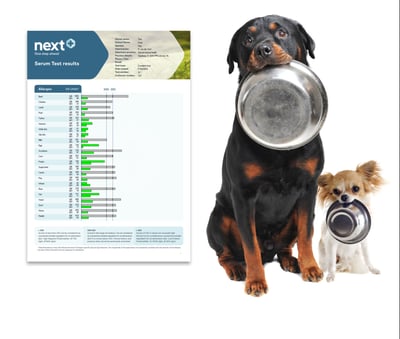 Nowadays pets are exposed to more types of diets and food ingredients and the ones that were before considered as "uncommon" are actually becoming more common. The probability that your patients have already been exposed to these 'uncommon' ingredients are high.
Therefore, we are happy to announce that from 18th May, the following food ingredients/proteins will be included in our Next+ Food Reactivity Test:
Duck
Rabbit
Horse
What is the Next+ Food Reactivity Test?
The Next+ Food Test is a serum test that examines food-specific IgE and IgG levels for 23 different allergens. It comes with clear advice on potential suitable ingredients and commercial diets for a food elimination trial.
Is the Next+ Food Reactivity Test reliable and how can it help me?
Although not diagnostic, combined assays of food specific IgE and IgG, represent a useful tool to identify a suitable composition for an elimination diet, when attempting to diagnose and manage a suspected adverse food reaction.
Will the price increase for the Next+ Food Reactivity Test?
No. As we are all currently living in unprecedented times there will be no additional cost.
Additional questions?
Please contact us via +31 (0) 320 783 100 or info@artuvet.com.
Best wishes,
Team Artuvet