Nextmune Academy is official!
We had a great kick off event in the first week of February, our Education Week was a success!
Nextmune Academy aims share knowledge, by incorporating different educational events and resources, from webinars, online courses, seminars, round tables, practical courses, in-house days and support materials.
All this will be available for both veterinarians and vet nurses, it will cover topics about multiple therapeutic areas and species.
Education Week is now over, but did you miss some of the webinars, or were they so interesting you want to see them again?
Register here to watch the recordings of the webinars

As we are so happy and grateful with its success, here some numbers:
More than 10.000 registrations
Almost 4000 people who joined us live during the webinars! That is 4000 people who spent their lunch, afternoon and/or evening with us.
People from 57 different countries! WOW
17 webinars in total (including USA)
10 renowned and fantastic speakers
More than 90% joined us for 2 or more webinars! THANK YOU
Already more than 3.000 vets and vet nurses watched recordings of the webinars afterwards.
And many, many questions were asked to us and to the speakers. Thank you for all your trust and interest, we really appreciate and we can't wait for more events like this! THANK YOU ALL
---
CONGRATULATIONS to our winners!
Sonja Thys, veterinarian from Belgium won 1st prize and wins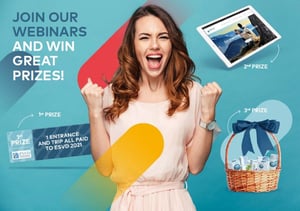 accommodations

and entrance to ESVD in Portugal!
Carlos Quintana from Spain wins the iPad,
Ellinor Isaksson Larsson
wins
a basket with goodies.
Thank you all for participating in our first Nextmune Academy event.
More to come!
Team Nextmune