Dear customer,
We wanted to assure you that at Artuvet we are taking all necessary measures to minimise any risk that will impact our service to you and your patients. With that in mind, numerous measures have been taken in addition to protecting our staff, lab and production, to assure we can continue to provide the same high level of service.
3 working days for serum test results (once received at the laboratory)
8-10 working days for Artuvetrin Therapy, Sublingual therapy and Skin test kits
Medical department and customer services available via phone, email and online chat from 9:00-17:00 (8:00-16:00 UK Time) Monday to Friday
However, things can of course change if external factors that are out of our control occur. We will inform you immediately of any such changes.
---
Allergy season is around the corner – Learn more about allergy with our FREE online CPD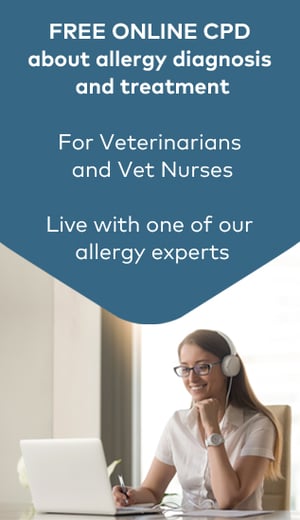 Allergy season is just starting and we know that 1 out of 5 pets will start suffering with symptoms. Allergy is a painful and tiresome condition for both pets and their owners. We know how fundamental it is to diagnose and start treatment with immunotherapy, the only treatment that addresses the cause and rebuilds the animal's immune system. We want to assure you that we are here at your disposal should you need our help along the way.
Therefore, we have available for all Veterinarians and Vet Nurses FREE online CPD about allergy diagnosis and treatment (with CPD certificates available upon request).
The online CPD will focus on:
Types of allergy, common allergens and symptoms
Diagnosis of atopic dermatitis
IgE testing – which, when, how, why?
Treatment options and management
Tools for increasing compliance
And much more…
It will be hosted live by one of our allergy experts and can be joined by one or multiple attendees.
You can get together at the practice during free time, attend as a group from multiple locations or just join yourself from any location.
The presentations can be held at a date and time to suit you and will last 45 minutes to an hour. Our allergy experts are available to help with any questions you may have during the presentation.
How can you apply?
Just contact us via email with the following information:
Name(s):
Email (s):
Vet(s) or Vet nurse(s):
Practice:
Country:
Your availability - 3 Dates and times:
For English presentations, email us at education@artuvet.com
For Dutch presentations, email us at educatie@artuvet.com
For German presentations, email us at edu.de@nextmune.com
One of our allergy experts will contact you as soon as possible to set up a date and help with any further information.
We will continue to do our best to support you and make sure all allergic pets can continue to be relieved from their allergy symptoms and treated with the best care available.
All the best,
Team Artuvet